One simple idea that's changed our lives and relationships with our kids
Every single year Alyssa and I were finding we were having the same conversation over and over.
A friend would tell us about a local hike (like Palouse Falls) or a restaurant we should try or an event that we wanted to go to.
"yeah, that looks awesome! We should totally do that!"
Then we would immediately forget about it and do nothing instead. (Oh you too? Phew! we thought we were the only ones!)
This resulted in a very long list of fun experiences that we never actually had.
Then after saying we were going to go to the Oregon coast beaches   for many years (and not doing it). We finally did. This resulted in Alyssa and I looking at each other and saying "seriously, why did we wait so long to do this with our kids?"
In our heads we justified not doing things because it "cost too much" or "we were too busy".  But in reality we realized we didn't have to wait. But we did have to be more intentional about how we were spending time with our family. 
We decided we weren't missing opportunities anymore

  
We spent this weekend at the Pacific Science Center in Seattle. I hadn't been there since I was 12 years old. But we'd been talking about taking the kids there since they were 1 or 2 years old. Never doing anything about it. 
But the past few years have been drastically different. For example, Alyssa and I have known we would be taking our Daughter Mackenzie for about 8 months now (more on how to do that in a minute).
It's right next to the iconic Space Needle and the entire 3 blocks around it are just packed with landmarks, great restaurants and things to do and see. They even have a high wire bike you can ride that's 35 feet above a pool (scarier than it looks).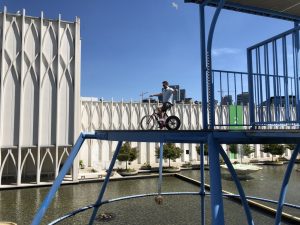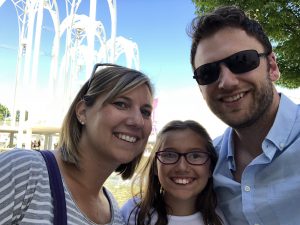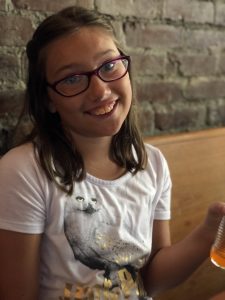 It was awesome. But not just because it was the Pacific Science Center or Seattle. Nope it was awesome because Alyssa and I were doing something that was important to us: spending time with alone with our daughter.
We have two other kids and we make a point throughout the year to spend several days alone with each kid.
The only problem is life is crazy. Things happen that are unplanned CONSTANTLY! (I'm guessing for you too)
So how do you ensure important events with your kids actually happen?
I find that it's not as simple as making a plan. Instead that if they are truly important to you you have to embed them into multiple areas of your life.
For example that trip to the Pacific Science Center wasn't by accident. At Christmas time every year we began creating coupons for the kids. Each coupon comes with an experience we want to have with our family or with one of the kids.
Then the entire rest of the new year both us and our kids look forward what's going to happen.
This means, not only do the events happen (and we find the time) but also we get the enjoyment of looking forward to each experience with the kids (and continuously talking about and planning). 
The anticipation leading up to each event is just as good as the event itself and it brings our kids and us closer together.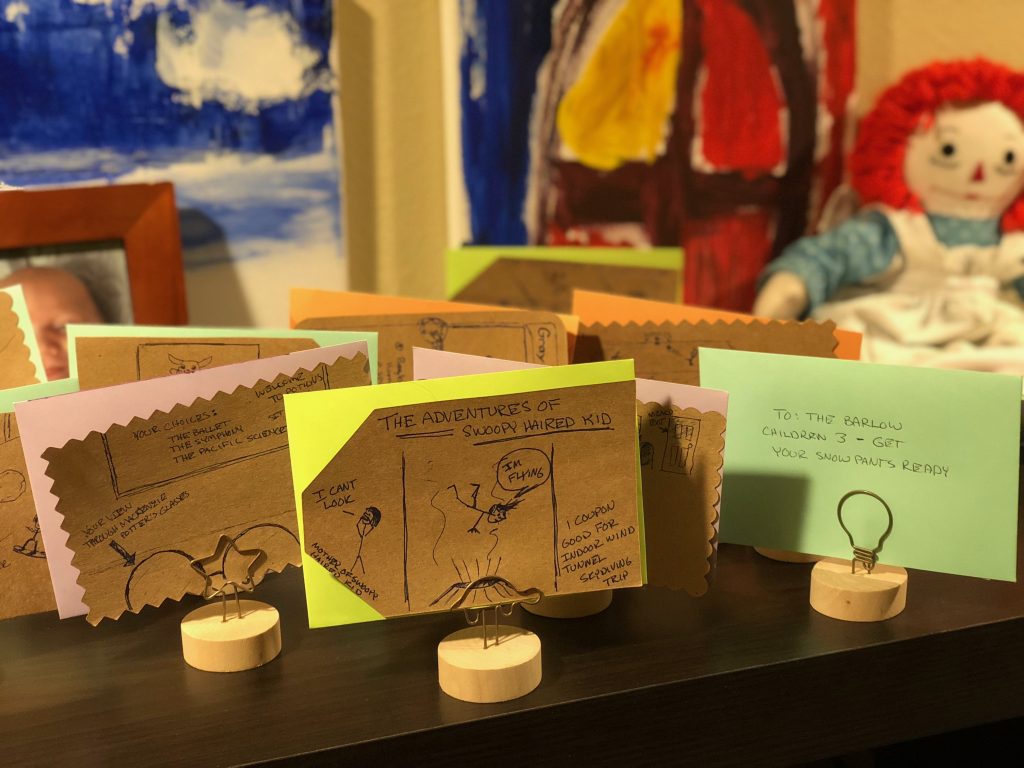 This year was a graphic novel theme for the coupons.
We invented a story and a character for each kid. 
Mackenzie was "Mackenzie Potter", Camden was "Swoopy Haired Kid", and Gray was "Grayichu's trainer" (he was really into pokemon so I made up a pokemon character!)
Even though this makes it fun, the real reason why we do coupons is It makes sure that the event itself is going to happen (we feel obligated to our kids and they continue to ask and talk about it until it happens later that year.
In many ways this allows us to literally pick how we want to spend our time for the next year before the year even starts. It also forces us to do many things we would never do otherwise to make those happen.
If the experience costs money, we budget for it
If it has to happen during a certain season (we took our kids skiing as a family) we plan for it.
Spending more time with family every year. 
 Here's exactly how we do coupons every year. This is the very simplified version of our system. 
1. Throughout the year we keep ideas that we get in a "note" on our iPhones.
This way it's always accessible. It's also much easier when we go to decide exactly how we will be spending our time with the kids each year. 
Every time we find ourselves saying "oh that would be so cool" or "oh the kids would love that" we add it to the list.
2. We make a lunch date out of the planning 
This makes it fun for Alyssa and I. Plus it's so much easier to be able to just schedule 90 minutes that then allows us to do all the things we want for the rest of the entire next year. Since we give the kids the coupons at Christmas, this lunch usually takes place in late November or Early December (Some years at the last minute and it's a week before Christmas, but that's still better than not doing it we've decided!) 
During our lunch (some years it's been a coffee date) we open up the list that we've accumulated throughout the whole year on our phone and then choose the final events that we're most excited about, and what we think the kids will benefit from (both now and in the future). See a list below of what we consider when we're choosing events.  
3. We set a date to do make the coupons
We usually pick out a time at the end of lunch (and add it to the calendar, since we live by our calendars) for when we' do this and then I usually draw out the coupons at that time. Although this last year I literally drew them out on Christmas eve. 
4. Give the kids their coupons and bask in smiles and delight. 
Ok honestly the first year we did this we were just transitioning away from giving the kids so many toys, so they were not as excited for pieces of paper with badly drawn cartoon characters as they are now. BUT NOW it's something we all look forward to and as Christmas approaches they ask if we're doing coupons again (as if we might take it away! 😉 
5. Plan when each event is going to happen
A couple days after Christmas we sit down with the kids in the living room next to the fireplace and then put everything on the calendar. This usually takes about 60-90 minutes and is usually a pain in the rear because towards the end the kids are getting bored. Still it's a necessity to make sure these actually happen. 
We start with things that already have hard dates (like we took Mackenzie to the Ballet one year and the kids to an NHL game this year) and then from there we decide where everything else will fit and try not to schedule over really busy sections of the year for our family (to make sure we minimize rescheduling later)
Small Parental Wins
Even though this process never goes perfect, we find that it's worth doing overall! We recently had to reschedule an event because of being sick and a host of other things that popped up. 
Alyssa and I actually felt terrible about it. But we talked to the kids and asked them to be involved with making the decision (family meeting style). They also felt we should cancel the event and choose another instead. So… it's never perfect!
But it does make sure that we don't go any single year (ever) without being intentional about how we're spending time with the kiddos. It means that we don't have regrets about it later on. It also makes it easy for us to see the priority. For example we had an event that overlapped with sports, We ended up not taking Camden to that game (and told the coach when he joined) because we've decided that this time with the kids is just too important. 
Even with sometimes hard decisions and doing this imperfectly I know that the kids appreciate it and really value it. 
I've even overheard several conversations that go something like this: 
Kenzie: "We're going to Vancouver soon."

Friend: "Yeah,..Sometimes parents say things and don't do them." 

Kenzie: Not my parents, we always do these trips and they don't miss them. They even make us these coupons and we put it on the calendar. I'm also going to the ballet with them next month.

Me: [Silently while eavesdropping] YES!!! 
This is pretty much as close to a Parental Win as it gets. 
Make time investments in a way that works for you
Regardless of how you feel about your "coupon making ability" I would like to encourage you to make big investments of time, money, and energy into the areas that are most important to you.
The easiest way I've found to do that is embedding them into other areas of your life.
When you go looking for those opportunities you will be surprised at how many you find.
When you find these opportunities to embed these into your world you will also be surprised at how much more possible it is to live more intentionally and to spend time with your family more intentionally.
It doesn't have to be the way we've done it. It doesn't even have to be at christmas or for the entire year. It could be simply replacing birthday gifts with time experiences that you can look forward to with your children. It could just be one thing, or even in a certain season of the year, like summer. 
When you find what works for you, lean into it… hard! It's worth it. 
Share this post with your friends or spouse so we can all start living more intentionally with our families. also write us Alyssa [at } familypassport.co and let us know what you end up doing with your family!
Also here's a larger list of our trips (which includes some of the Kids Coupon Experiences) for ideas. Also images of some of the coupons from 1 year below. (click to make bigger)